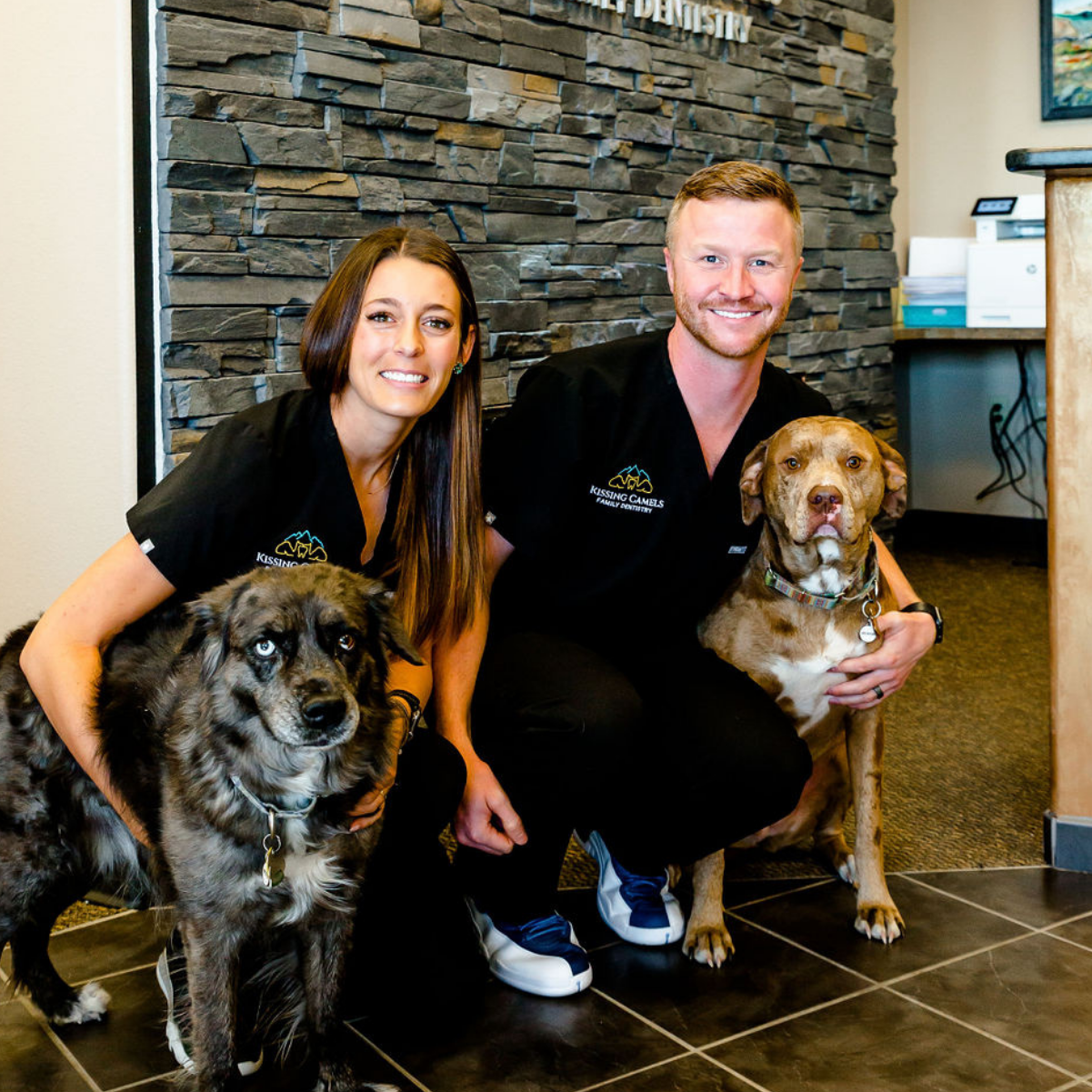 DR. CODY BOALS & DR. ALEXA JOHNSON
Dr. Boals and Dr. Johnson, Colorado Springs dentists and husband and wife team, are drawn to dental care because they love helping people enjoy their lives to the fullest.
Dr. Boals loves the customization of dentistry and the fact that every smile is different, which brings new challenges to each day. When he's not at the office, you can find him hiking, fly fishing, and spending time with his family and their four rescue animals. If you're looking for a friendly Colorado Springs dentist, contact us today to schedule an appointment with Dr. Boals!
Dr. Johnson or "Dr. J" is originally from central Illinois and is so happy to now call Colorado her home. She has four rescue animals and loves the outdoors including hiking and fishing. Dr. J has been helping out at Kissing Camels Family Dentistry since day one, but now, we have her full time for all your dental and esthetic needs. She not only excels in her dental work, but she also does dermal fillers and botox.
meet OUR AMAZING dental care team
AT KISSING CAMELS FAMILY DENTISTRY
Our Colorado Springs dentist team is caring and kind, and everyone who walks through the door is greeted as a friend. We enjoy each other's company while we work and we love what we do, so the atmosphere in our office always feels warm and friendly. Check out our patient reviews. If you're looking for a Colorado Springs dentist where you'll feel welcomed and comfortable, our team would love to meet you!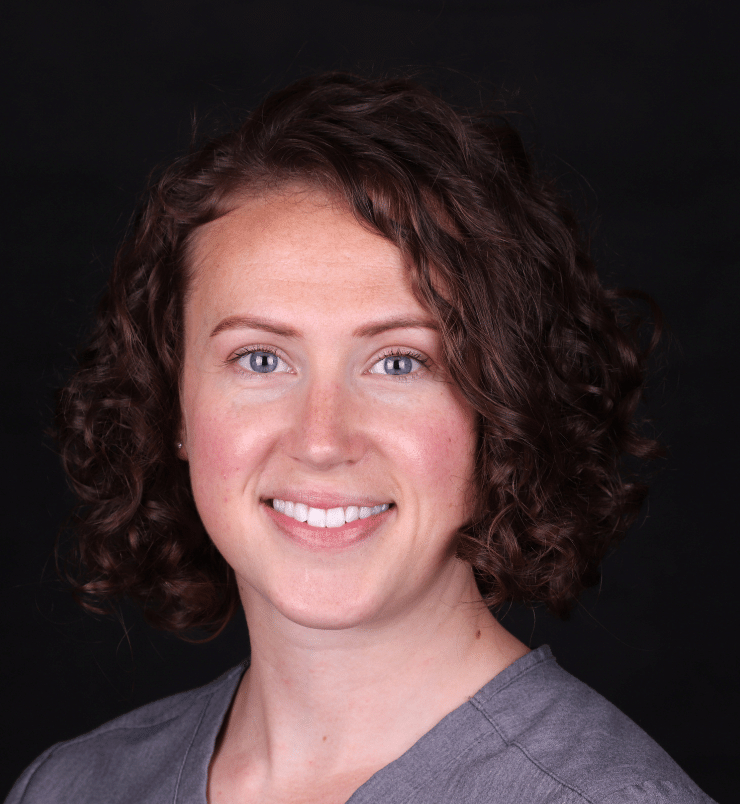 Megan
Megan is a Colorado native but has traveled around a lot. She started out in dentistry as a volunteer dental assistant on Ramstein Air Force Base in Germany. When she's not at work she enjoys spending time with her husband and daughter Susie, going hiking, antiquing, and doing house projects.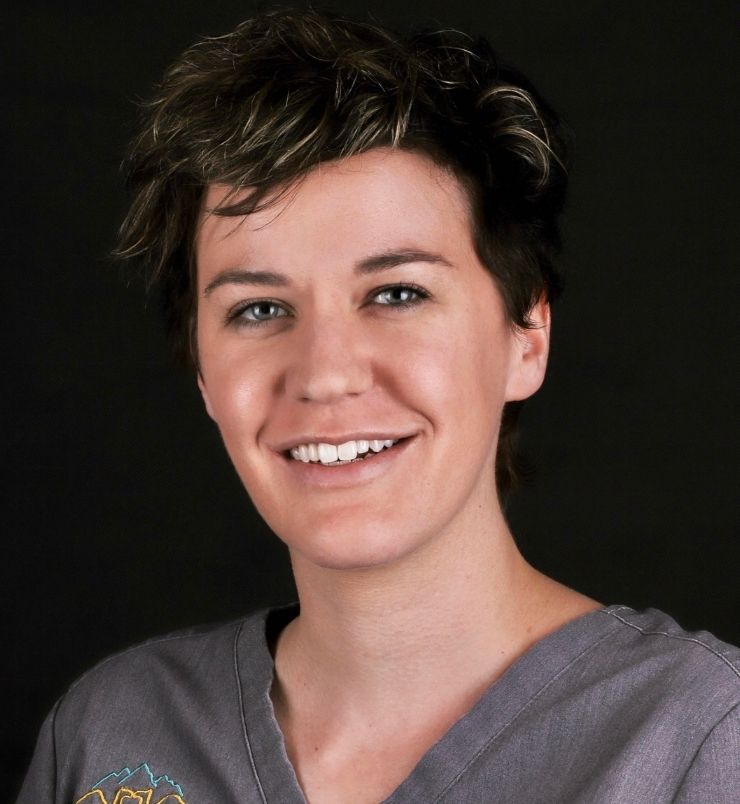 Taresha
Taresha grew up on a ranch in Wyoming and completed her education for Dental Hygiene in Sheridan, WY. Taresha loves her profession and enjoys hiking with her dog in her spare time.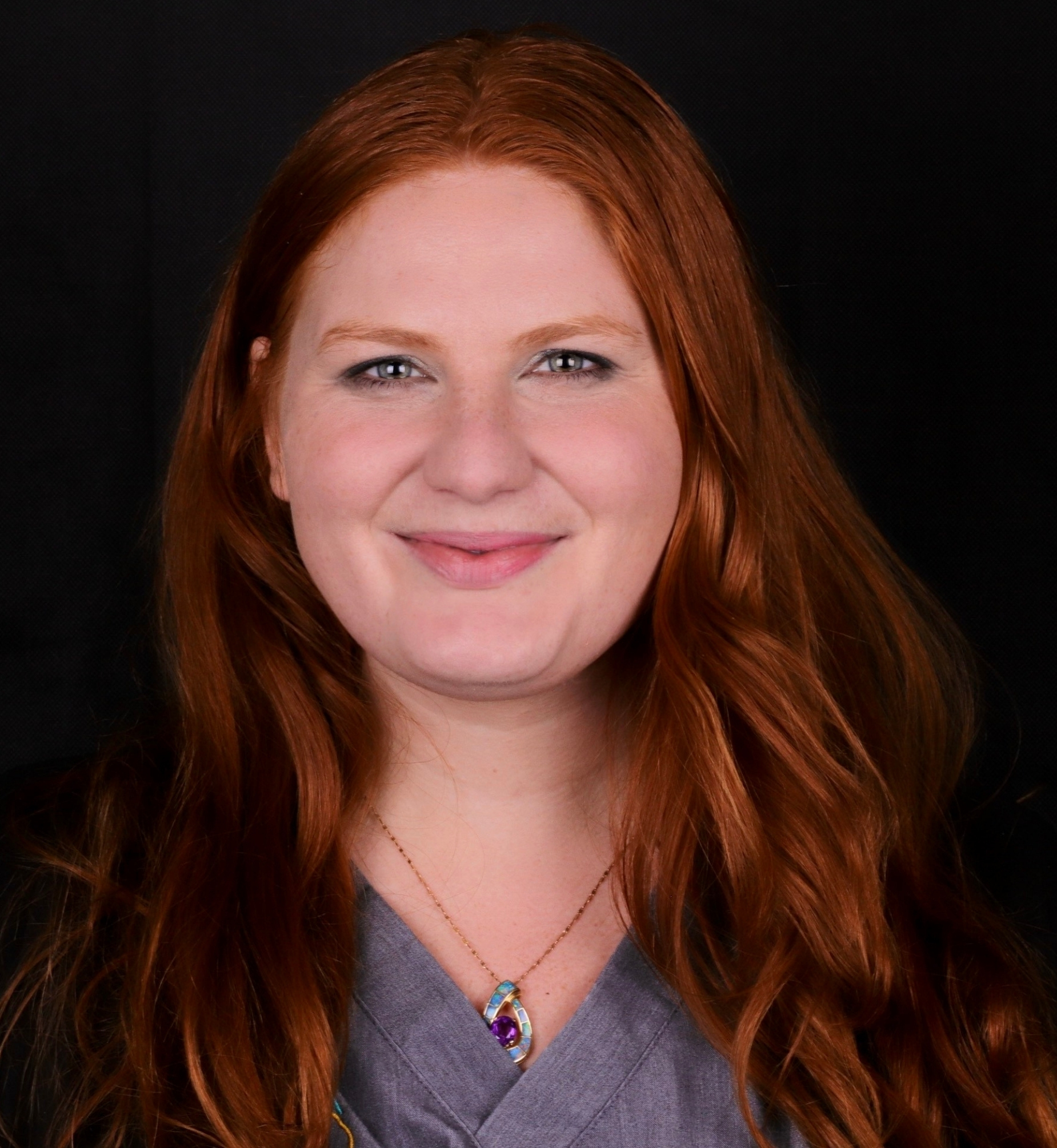 Jasper
Jasper is originally from Texas and began working in dentistry in 2011. She is passionate about preventative medicine and the overall benefits it provides. Jasper is an avid animal lover and enjoys participating in community outreach.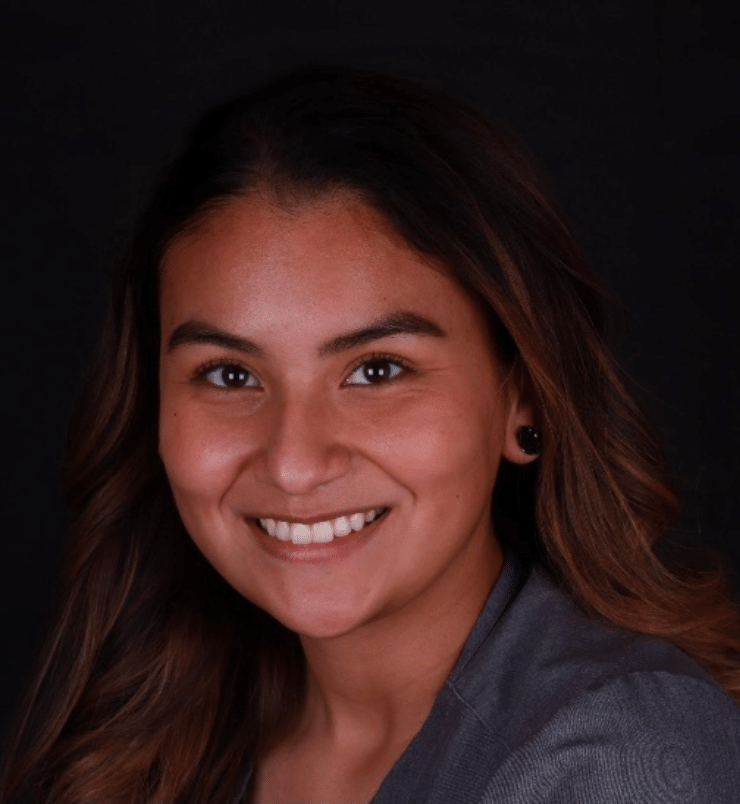 Jen
Jen is a hard worker and takes great pride in all that she does. Jen moved to Colorado in 2017 from Belvidere, IL with her husband and 2 children, Luis and Jaliya. She is a huge Chicago Bears fan! In her free time, she enjoys photography, and spending time with her children and dog Desmond.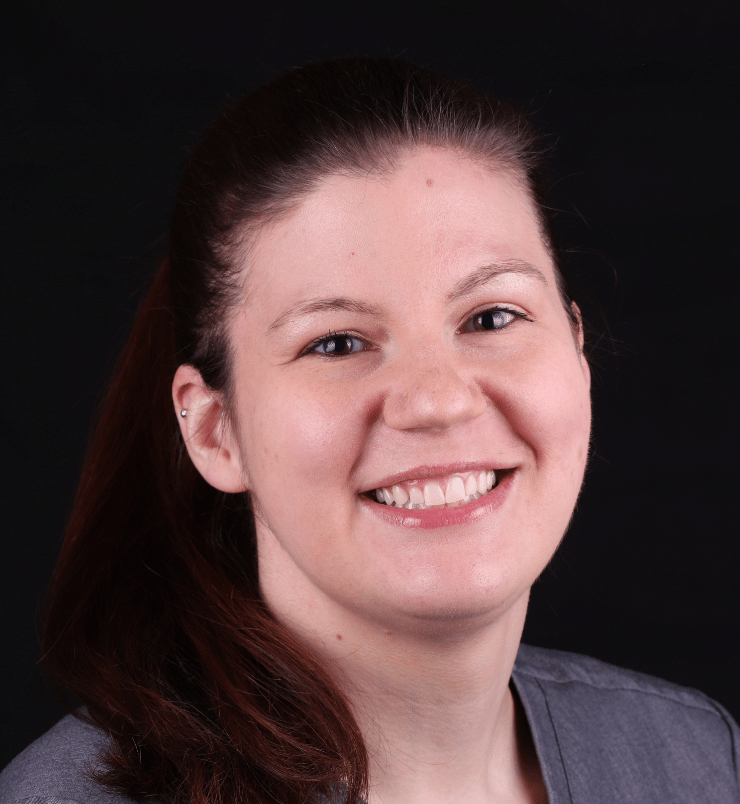 Amelia
Registered Dental Assistant
Amelia was born and raised in Alaska and moved to Colorado in 2019 with her sister. In her spare time Amelia enjoys baking and sharing them with the office. She also enjoys reading and watching sports and practicing MMA. Amelia has a dog named Deno living in Alaska with her parents.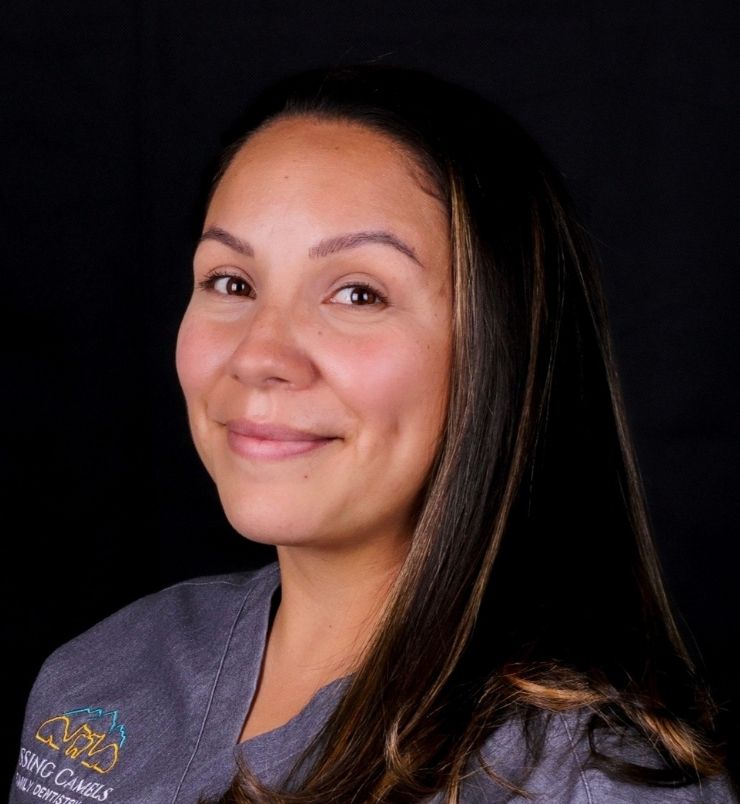 Miranda
Miranda loves being in the dental field and enjoys making her patients happy. In her spare time she loves being with her family, going camping, and watching Sunday football games.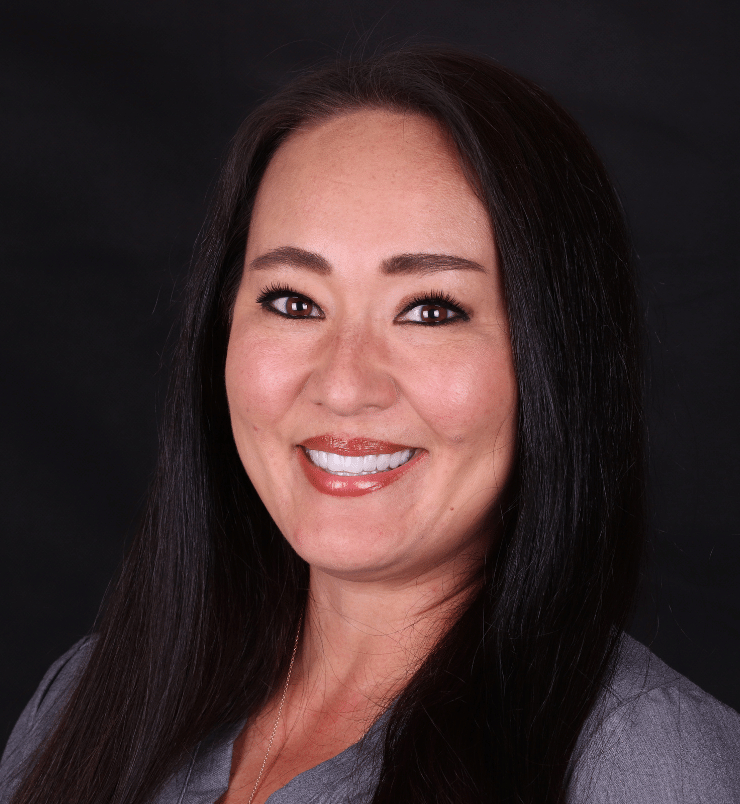 Kimberly
Registered Dental Assistant
Kimberly has been a Registered Dental Assistant since 2012 and loves working in the dental field! She is originally from Texas and moved to Colorado in 2014. When she is not working, she loves spending time with her husband and son, traveling, camping, going to concerts and hiking with her dogs Yeti and Maverick.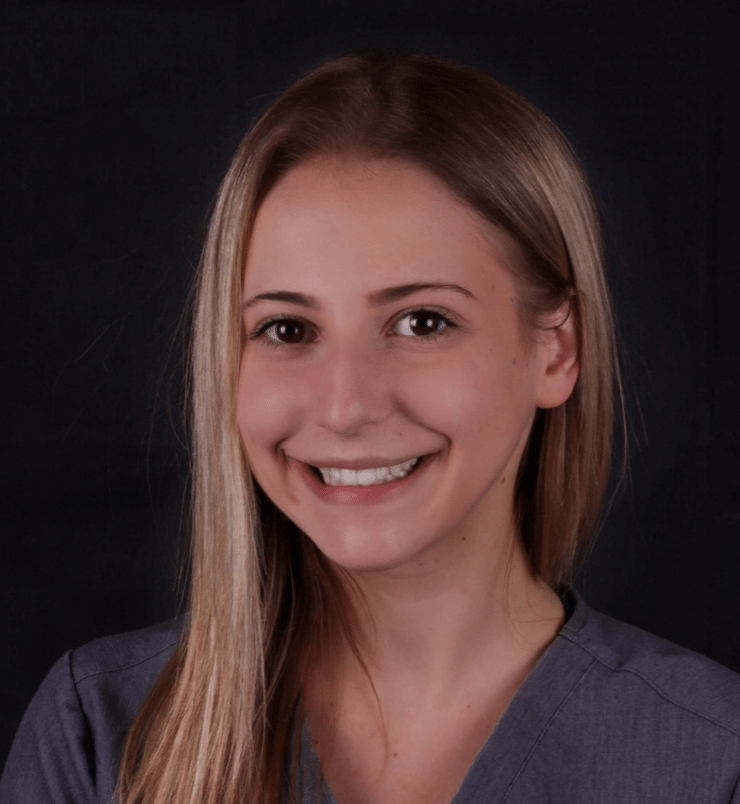 Katie
Executive Assistant & Marketing Coordinator
Katie was born and raised in small town Iowa and moved to Colorado Springs in 2021. She graduated from the University of Northern Iowa with a degree in business marketing. In her free time she likes to hike, cook spicy foods, spend time with her friends, and thrift shop.
Mila
Mila is a Catahoula Leopard/Aussie mix. She was found on the street in Tennessee. Dr. Boals adopted Mila in Illinois. She is a sweet girl who loves to talk. With the softest fur, if you ever see here, make sure to give her a pet! Mila loves hiking/fishing with her family and rolling in the snow.
Rey
Rey is a Catahoula Leopard/Hound mix. She was born in Louisiana and then Dr. Boals adopted her in Colorado Springs. She is a wild pup who loves snuggling! Rey loves playing with her sister Mila, as well as going on hiking/fishing adventures.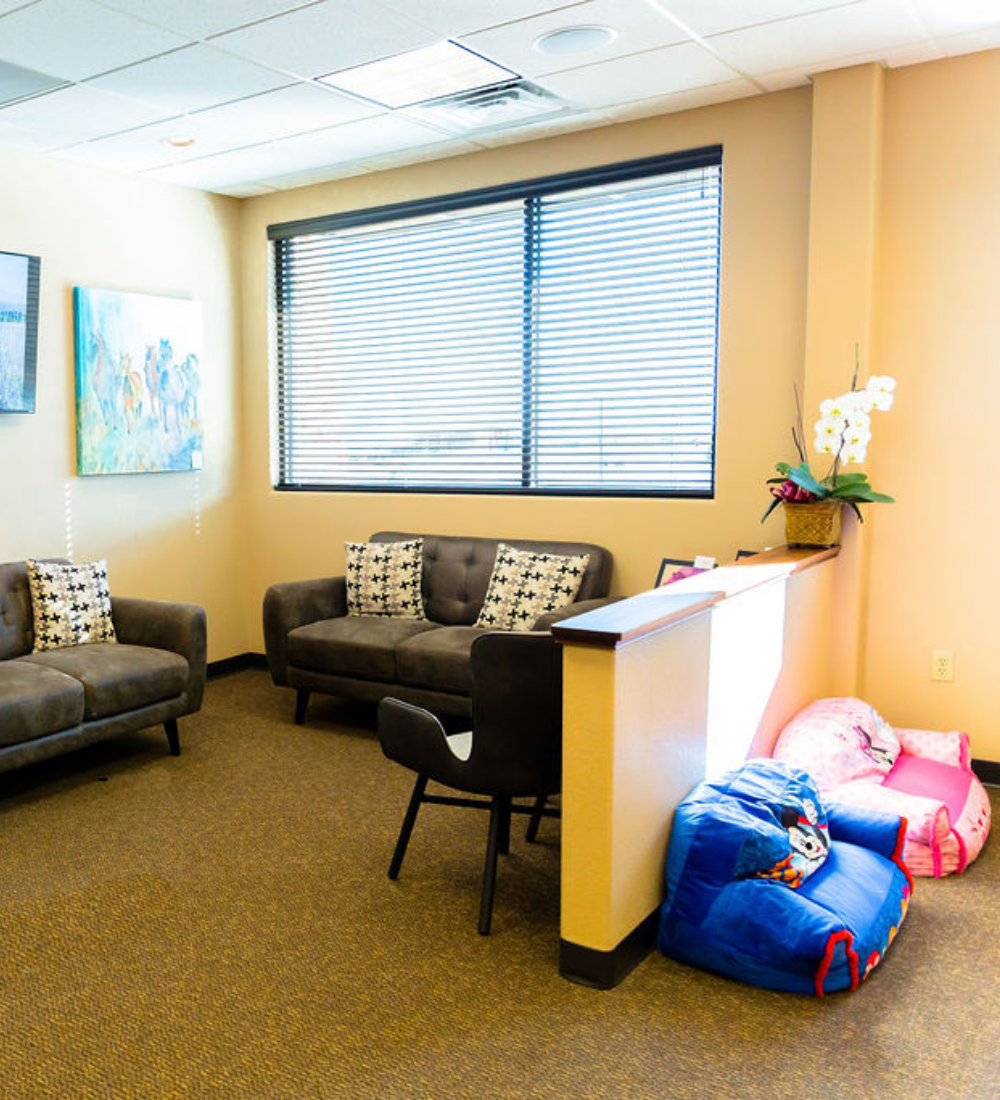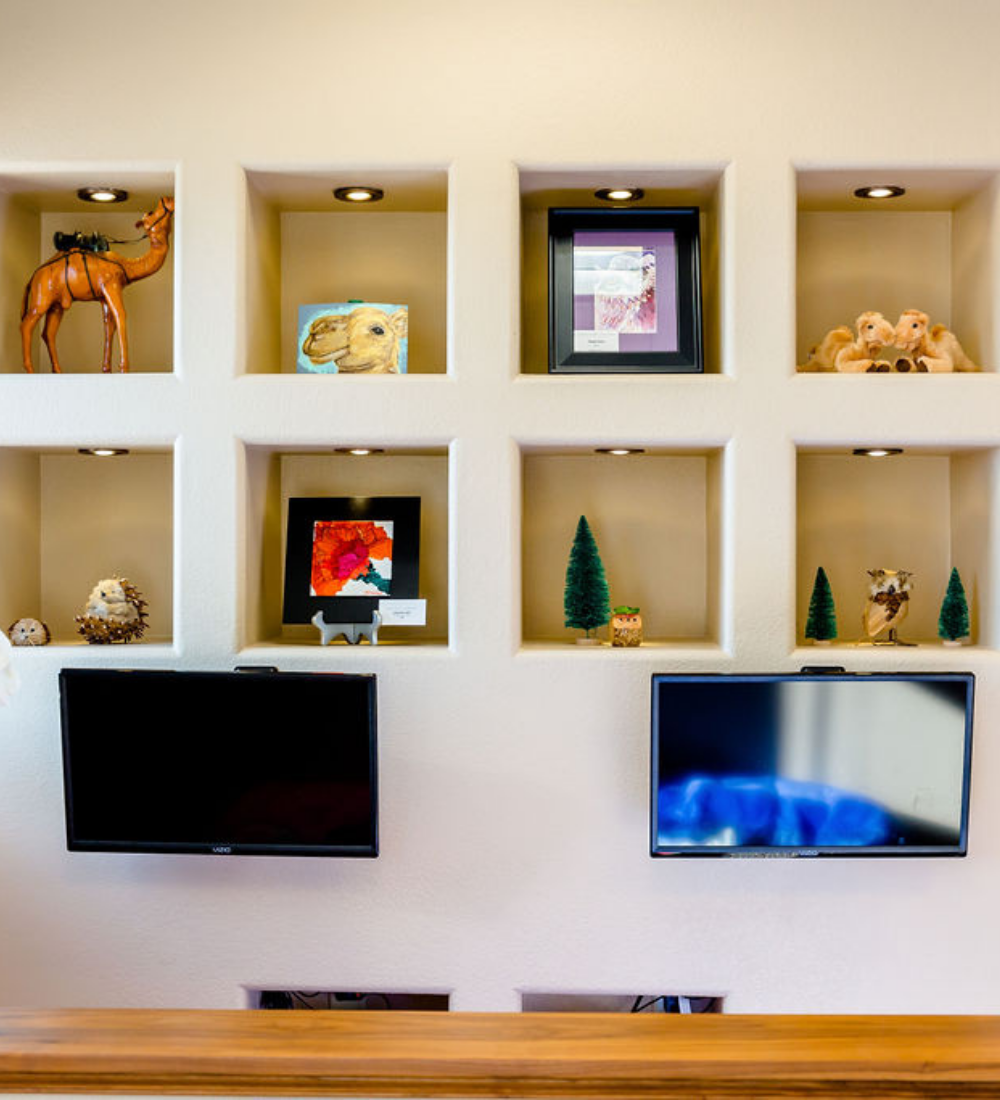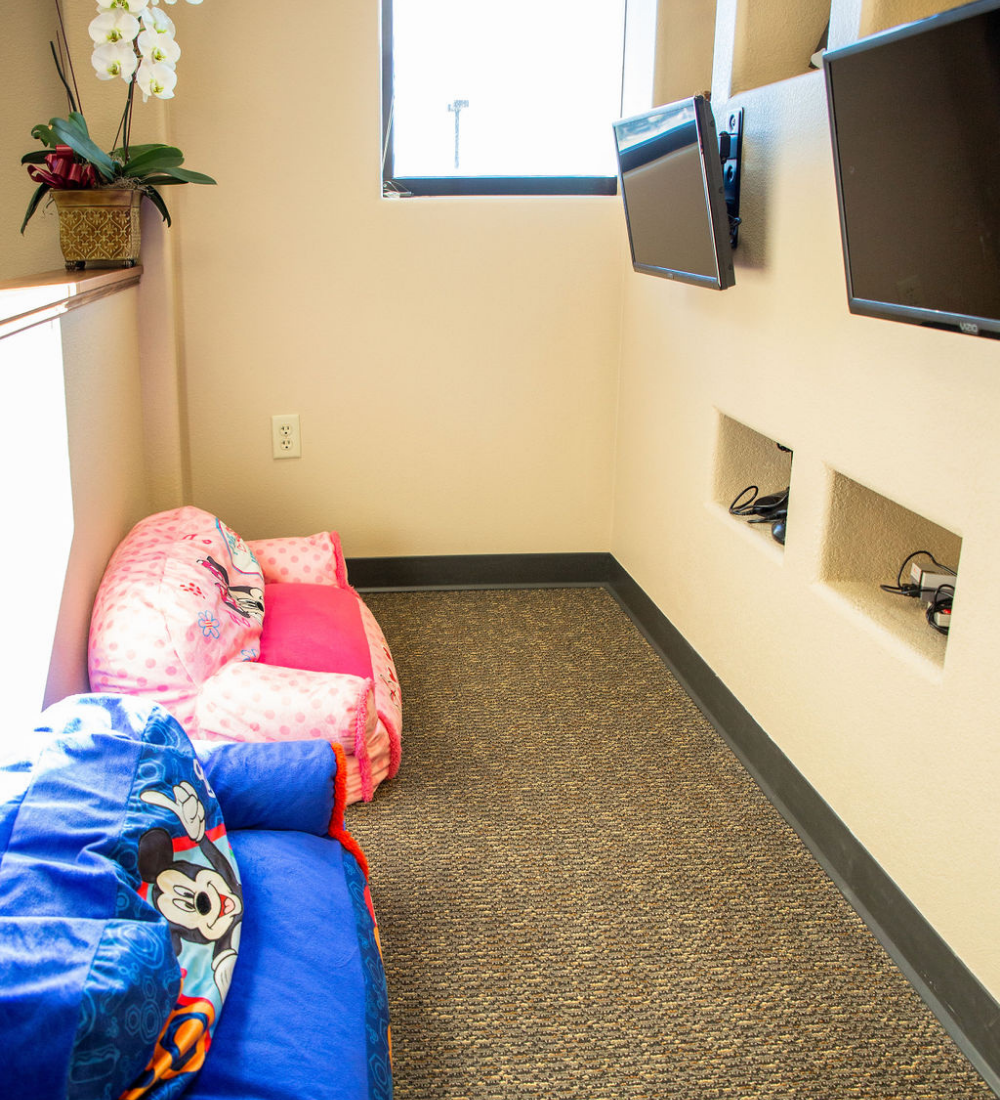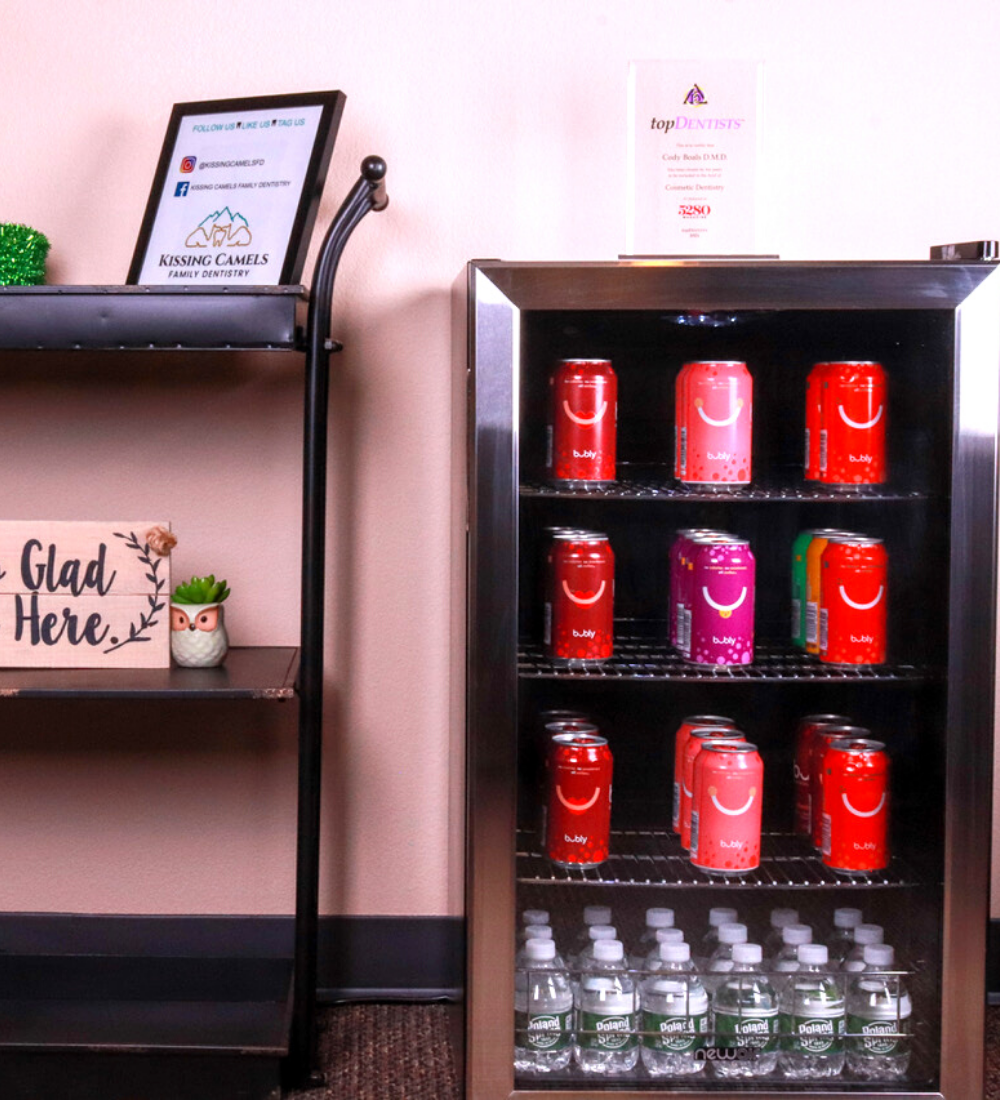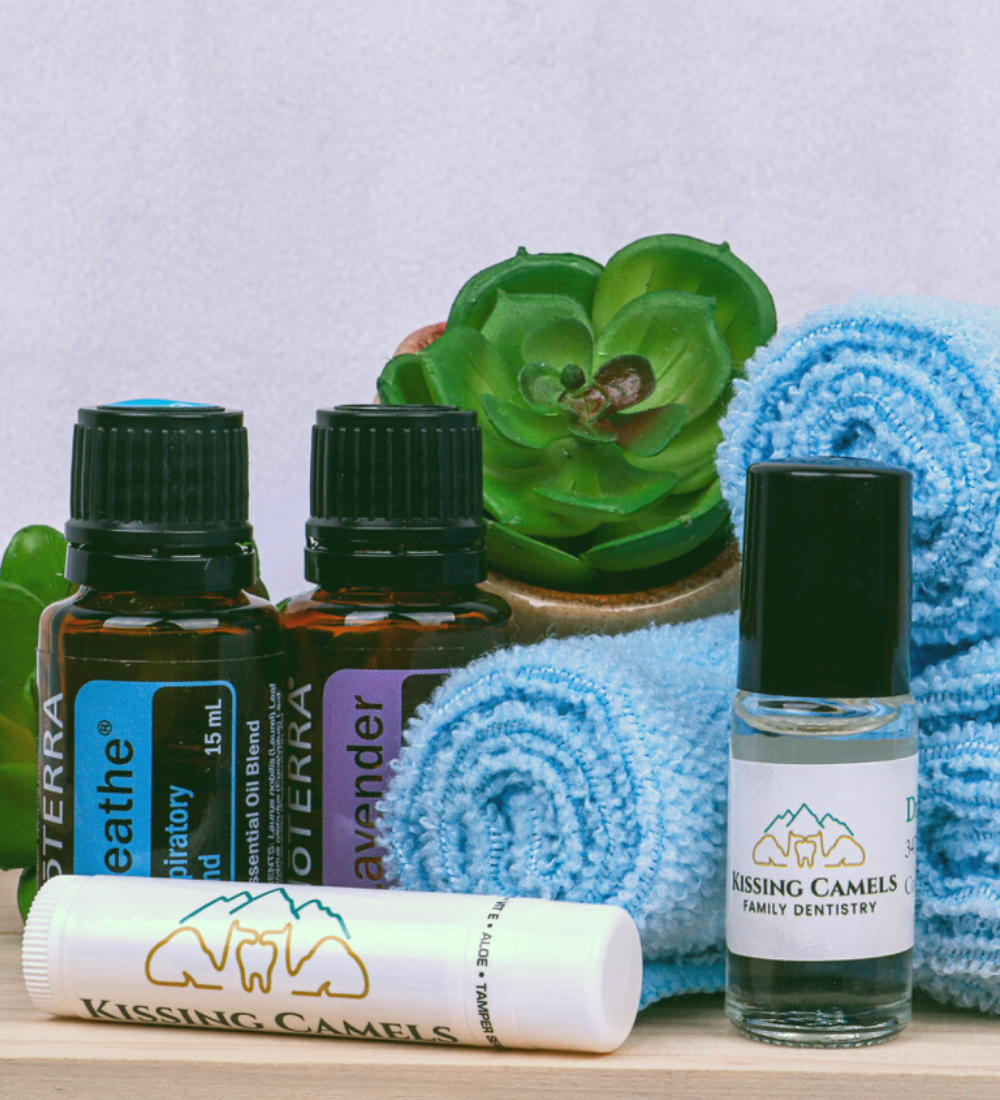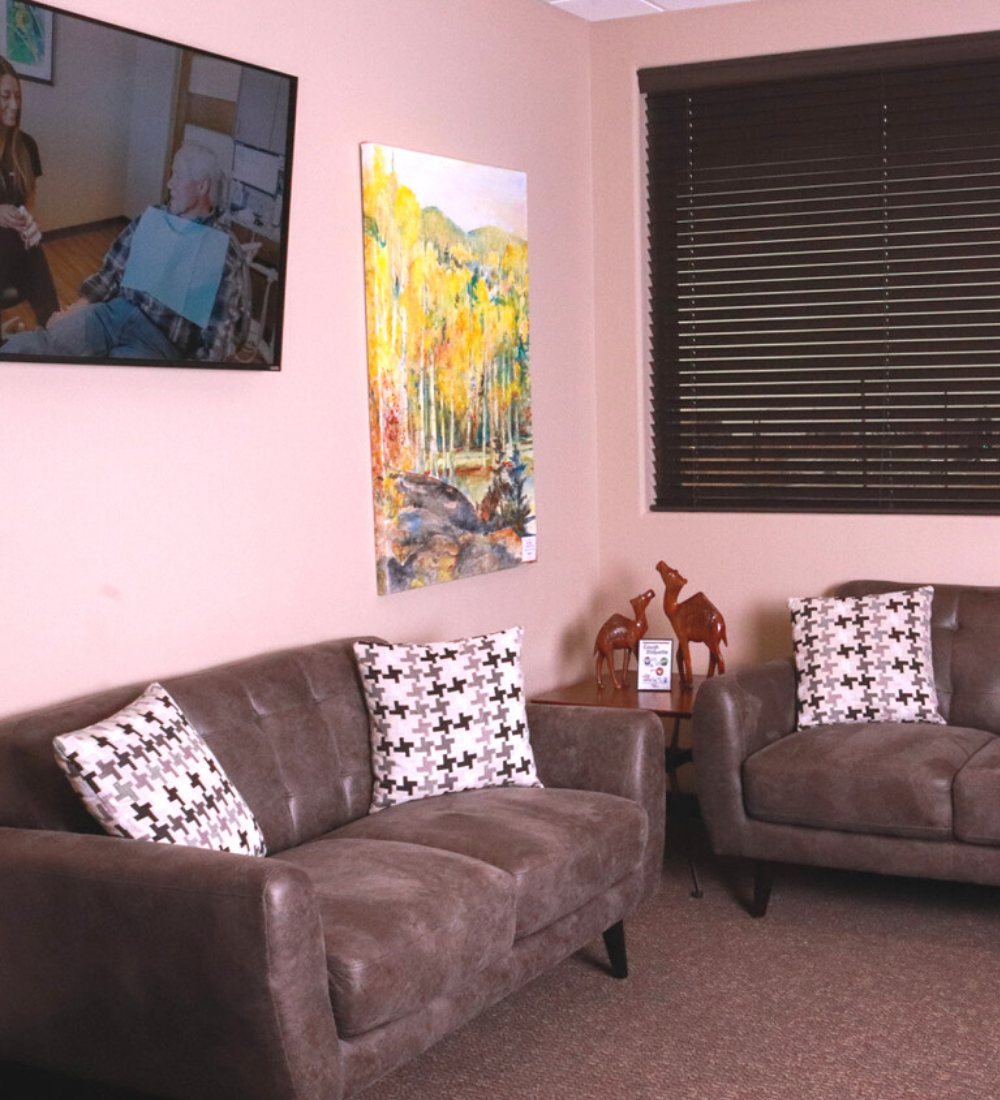 YOUR DENTAL CARE EXPERIENCE MATTERS
Your comfort is one of our top priorities. We believe that quality dentistry includes your experience in the lobby and operatory. From your first visit to your post-op care, our Colorado Springs dental team is warm and accommodating. Our dental office is equipped with amenities that will make your visit relaxing and enjoyable.
WE WELCOME NEW PATIENTS TO OUR FRIENDLY DENTAL OFFICE
GET YOUR FIRST CLEANING AND EXAM FOR $149!
KIND WORDS FROM OUR PATIENTS
"I recently got some extensive work done, and I couldn't be happier with the results. Dr. Boals, Dr. J, and the entire staff made the whole process painless and carefree. I cannot thank them enough!"
"With all the bad experiences I had in the past, I was apprehensive. They are all very friendly and caring. I will be going back to them to get a smile I deserve. It was a wonderful office visit."
"Dr. Boals and his staff are excellent! I had been looking for a new Dentistry practice to have in place for long-term. This place met all my criteria. Very modern, high-tech, friendly, and informative. The appointment reminders are timely!"